"Before the Unit, I would spend all my free time in my bedroom, not socialising with anybody. Now, I have made new friends, and I am a lot more confident speaking to other people. Because of the Unit, my life is much happier."



"

The Unit has had unmeasurable impact on me and many of my friends in and around Salisbury."






How you can support the Unit - Sponsorship
How can you help?
Your contribution goes towards essential revenue funding for The Unit, helping us to focus more time on delivering projects for young people. The revenue funding constitutes core costs such as rent, project co-ordinator salary, heating, lighting, internet and phone costs, insurance and other essential costs.
What do you get in return?
Brand Association with "The Unit"




Community Focus




Corporate Responsibility




Venue hire




Entrepreneurial spirit




Marketing – we are more than happy to promote your organisation




Trendy and youthful association!



Sponsorship Packages
Package 1

:

Lead Sponsor

Suggested donation of £250+ Per Month

·

Association with two Unit events

·

Use of venue

·

Headers on all correspondence and marketing material

·

Header on website

·

Corporate page with links on website

·

Event based signage

·

Invitation to six monthly networking events

·

Place on Unit Committee

·

Signage subject to planning/costs

Package 2: Corporate Sponsor

Suggested donation of £50+ Per Month

·

Footers on all correspondence

·

Corporate page with links on website

·

Invitation to six monthly networking event

·

Handmade gift from young people

·

'Brick' in the window of The Unit displaying your organisation






"It is an important place to me because there are lots of opportunities to take part in. "

"I also use the space as somewhere to my homework as it is somewhere I can concentrate."

"Helping the Unit has been great fun for me- I would never do as many social activities without it."




For more info, send an email to The Unit staff at:

unitspace@gmail.com
Powered by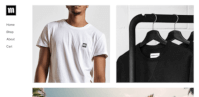 Create your own unique website with customizable templates.